Ike is about 9 years and half years old. He has severe
hip dysplasia
and arthritis. We've been hit with a cold snap this week; it hasn't been above freezing in a week, today is the first day it got into the teens.
Ike has not been handling it well.
He likes to go outside, play with his ball some, then stumble off to do his business. That's his routine, and it can take five-ten minutes. But with the sever cold, his joints lock up after about a minute, and he just crumbles into a sad pile on the ground. If it's not too bad yet, he'll drag himself up the ramp with his front paws. (Obviously, I rescue him. I don't stand around and watch him reenact a K-9
Christina's World
.)
He doesn't really understand why he can't go outside and play (such as he does.) It's heartbreaking. So, I've been planning on making him a coat, like the ones sheep wear. I got some nice quilted material at the thrift store for a quarter with cute little baby airplanes on it, and on a whim picked up some socks, because the cold was obviously hurting his paws too.

asia_sky
helped me put the socks on (she also kindly supplied the photos.) And the results were promising; he played a little bit and peed for about 2 minutes before the socks fell off. So, I stopped by the pet store yesterday and got him some doggy boots. Well, they look more like mittens, really.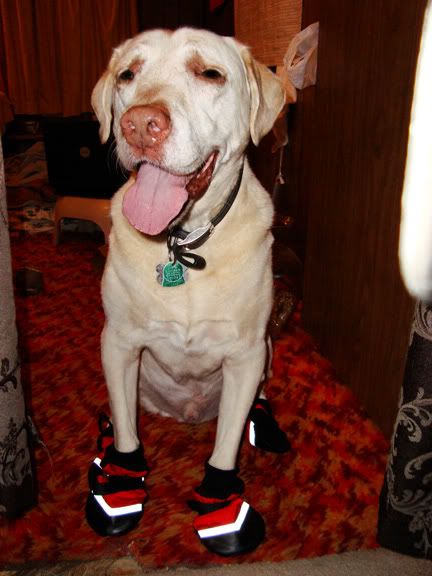 But they've been fantastic. He hardly notices the cold. I still haven't made him his coat, and the weather is starting to warm up slightly, but I was afraid he wasn't going to make it through this cold spell. Thanks to the boots, I'm no longer worried that I'll have to put down my dog at Christmas.
*edit* Thank you, Firefox 3 and Photobucket for making it so damned hard to copy links properly.